Established in 1996, The Drama Toolbox provides education through imagination with its unique drama programs and incursions.
Over the years the company has grown to become a major supplier of drama incursions to preschools and primary schools throughout Victoria and New South Wales.
The Toolbox Team is a diverse group of highly skilled creative people who adore working in the imagination space! Here's a snapshot of the team you will meet on your journey through education using imagination.
Kirsten Kirkman
Owner Manager
is the founder & manager of The Drama Toolbox and holds a Bachelor of Arts and a Bachelor of Social Work.
Having worked in the incursion space for over 25 years Kirsten has witnessed the value drama brings to education and to children's confidence. As a social worker she sees the strong connections between using puppetry and drama to help students recognise and regulate emotions.
Kirsten loves watching sessions and seeing how all children, whether 3 years old or 12 years old cannot help but get involved in the stories created.
The Drama Toolbox
Fairlie O'Donnell
Drama Manager
has a Bachelor of Education majoring in dance, English and drama. She has previously worked in schools both in Victoria and Western Australia, owned her own Dance school and directed and choreographed many children's productions.
Fairlie manages the Drama Team and her top priority is to bedazzle children with their Drama Toolbox experience. She is passionate about teaching children through drama but most of all loves the sound of their giggles as they have loads of fun!
The Drama Toolbox
Amy Roe
Drama Teacher
obtained her Bachelor of Education in Queensland. Amy enjoys being a part of this successful program that encourages children to be creative and expressive. She believes that education and fun should go hand in hand. Amy's other interests include costume design and writing children's fiction.
The Drama Toolbox
Michaela Smith
Drama Teacher
has a Bachelor in Contemporary Arts/Drama majoring in Drama & Literature. Michaela has over 20 years experience in theatre, both on and off stage and has directed several children's productions. Drama is Michaela's passion and she loves being able to share that passion with so many children through the unique style of The Drama Toolbox.
The Drama Toolbox
Alexandra Daniel
Drama Teacher
has a Bachelor of Education, (specialising in Early Childhood Education) from the University of Notre Dame. She has previously worked in Western Australia in both primary and early childhood settings.
Alex has a play-based learning pedagogy and believes that children learn best when they are actively engaged and learning is fun and interactive.
Alex's other interests include singing, playing guitar and rock climbing!
The Drama Toolbox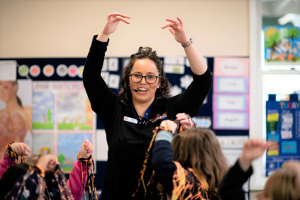 Jade Rosenberg
Drama Teacher
has a Bachelor of Primary Education from Monash University and has been working with children since she was 15. Jade loves seeing children's faces shine as they learn through the magic of drama and imagination. She has two gorgeous littlies at home, and enjoys singing and playing netball in her spare time.
The Drama Toolbox
Delyse Weisz
Drama Teacher
has proven and extensive experience in developing and nurturing confident, communicative, self-disciplined and creative thinkers through process drama, drama therapy and drama techniques.
Delyse has directed over 50 school productions in private, public and special needs schools. She also collaborated with Drama Victoria in creating online resources for specialist and generalist teachers.
In Delyse's 25+ years of experience inspiring children from prep to year 12 she has created vibrant space for her students to inhabit their characters and own every stage of the process.
The Drama Toolbox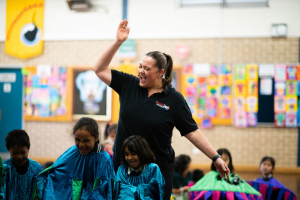 Maddie Epthorp
Drama Teacher
holds a Bachelor of Musical Theatre from the Australian Institute of Music. Since graduating Maddie has worked in performing arts education across Sydney.
Maddie has a passion for providing children with the same memorable experiences she had growing up in the performing arts and believes that drama and the use of imagination are great tools for fostering a child's individuality, creativity, and confidence.
Maddie also teaches voice and piano and enjoys performing across the Sydney theatre scene.
The Drama Toolbox
Ruth Gilmour
Drama Teacher
graduated with a Bachelor of Dramatic Art from Excelsia College in 2013. Since then, her passion for theatre has taken her all over the globe, touring with Italy-based theatre company Theatrino and then with her own theatre in education company.
Ruth loves inspiring kids to be creative, energetic and passionate through drama and imagination.
The Drama Toolbox
Melissa Watts
Office Manager
is the Office Manager at The Drama Toolbox. She enjoys dealing with customers and no issue is too big for her to tackle. She loves being able to book a customer in and make sure that their journey from start to finish is perfect.
Melissa also oversees the Costume Dept here at The Drama Toolbox costumes and sometimes will sneak in a fitting when no-one is around!
The Drama Toolbox
Emily Downie
Logistics Coordinator
manages the logistics of our 70+ incursion packs across various states. This includes the maintenance, repair and logistics of over 6,000+ combined costumes, puppets and props!
As a dance teacher and performer, Emily shares a love for drama and movement and feels right at home surrounded by our gorgeous costumes. She has a background in Workplace Health and Safety administration and has enjoyed bringing her spreadsheet skills to The Drama Toolbox.
The Drama Toolbox
Julie Marcon
Costume Creator
takes pride in constructing many of the costumes and is inspired by the textures, colors and vibrancy of the materials she uses.
Julie has been sewing costumes for The Drama Toolbox for many years and is currently creating and maintaining our 5000+ workshop costumes.
The Drama Toolbox
"Play is often talked about as if it were a relief from serious learning. But for children, play is serious learning"
R Rogers